Construction Feature: Bullseye Event Center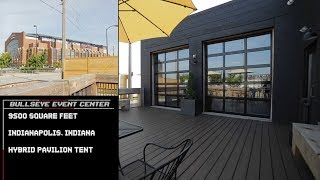 October 23, 2019
Hays + Sons hits the mark with the new Bullseye Event Center Did you know that Hays + Sons restoration company also does general construction? We were thrilled to handle the build of Bullseye Event Group's amazing new facility—the Bullseye Event Center, located at 723 S. Capitol in downtown Indianapolis.
Watch the dramatic transformation of this space, from a long-unused warehouse to a high-end multi-use, 9500-square foot event facility that can accommodate up to 1000 people! The crew at Hays +Sons really got into this project, as we were able to unleash our creativity and bring out an industrial-chic vibe in the space, with acid-washed concrete floors, granite countertops, reclaimed wood and exposed brick walls.
Opened in the spring of 2019, the Bullseye Event Center will now be the permanent home of the Colts VIP Tailgate Party, which Hays + Sons is proud to be a sponsor of. The Bullseye Event Center is within easy walking distance of Lucas Oil Stadium and offers awesome views of Indy's vibrant downtown scene.